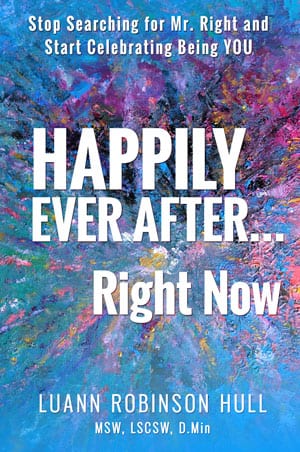 Carefully researched, Happily Ever After...Right Now combines spiritual, scientific, and practical information for charting a new course towards confidence, self-love, and joy. Written with spirit and spunk, author Luann Hull provides women with a three-part-framework including education, awareness, and transformation to live a happy life today, not someday in the future. This breakthrough book cracks the code to relationship challenges and shows women how to unravel the patterns that have kept them from living their best life, whether or not they are in a committed relationship.
More info →
The book examines the subject of romantic relationships, touching on the biology and conditioning that perpetuate maladaptive patterns behind pain and suffering. It provides break-through, cutting edge information on how to create new pathways in the brain, using a combination of neuroscience and spirituality (such as neuroplasticity through meditation and mental focus) to create happier, healthier relationships, starting with self-love.
Hull shares her own experiences in love and consciousness, guiding readers by example and sharing advice and humor along the way. Self-Belonging is an educational memoir which shows women—through a variety of methods, including positive psychology and spiritual practices—that once they are liberated from the patterns of the mind that have kept them stuck, they are free to flourish—both individually and in their relationships, as they expand toward the authentic self, self-realization, thriving, and optimal potential.
More info →